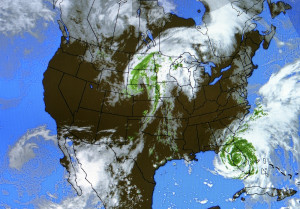 In late January 2015, Winter Storm Juno pummeled the northeastern United States, dumping up to three feet of snow on many portions of New England. The effects of this paralyzing storm included impassable roads, closed airports and mass transit systems, and massive flooding due to collapsed seawalls along the coast. Heavy winds also caused extensive damage across the region. A 78 mph wind gust was reported on Nantucket, and a 72 mph gust was recorded on nearby Martha's Vineyard.
Another severe consequence of the storm was that more than 25,000 customers lost power for several hours. Nantucket was the hardest hit, experiencing a power outage and loss of telephone communications across the entire island. Hospitals throughout the region were forced to rely on generator power, and many residents had to survive without heat as the temperature dipped below 10 degrees. Electrical emergency services similar to Kalahari Electrical (kalahari-electrical.com/emergency-services/) tried their best to get power back to residents, while other services were placed on a storm watch.
CoastTec's founder Jon Sevel notes that our nation's antiquated power grid system exacerbates weather-related power outages. According to Jon, "Revamping the power grid would be an exorbitant national cost no one's willing to fund. But there are ways to take the grid into account and protect your organization in spite of it."
Environmental and CoastTec experts agree: Juno's impact could have been much worse. Had the nor'easter remained on its expected course instead of veering farther north at the last minute, New York City would have received a direct hit as well. Millions of New Yorkers were spared from a wide-scale power outage that might have brought America's largest city to a virtual standstill.
So, with this dramatic heads-up – which could have been far, far worse – it is crucial to ask yourself, "Is my organization prepared for the next dramatic weather incident?" This time, predictions were scarier than the weather event itself, but you can't count on that for future forecasts.
Prepare Now for the Next Storm….and for the Long Term
Events such as Winter Storm Juno represent an alarming trend: climate change is leading to an increase in many types of severe weather across the United States. According to a recent study by Climate Central, incidents of severe weather have been on the rise for nearly three decades. An increase in major storms and other severe weather events has also led to an increase in the number of related major power outages. In other words, preparing for the next storm will be an important discipline for years to come. This includes prepping buildings for weather damage as well. Damage to a building can cost a large amount of money, especially if the business relies on being fully open. Businesses can look at roofing fort lauderdale companies, or ones similar, to have their roofs checked out and safety protection put in to make sure that they are ready to weather any storm.
For those who have invested in APC UPS units, there is no question you have made an important leap in protection from power outages related to weather, including high winds. But did you know there is more you can do prior to entering seasons of extreme weather, rolling blackouts and blustering storms, to prepare for out-of-the-ordinary conditions which can disempower even the finest UPS equipment?
Answer three questions to ensure you're ready for the next frightening forecast:
Is it time to recondition your unit?
If your unit is older than four years, it is time to recondition it. Why recondition? First, over time, tiny imperceptible power issues can alter your unit's alignment – affecting the performance of the unit and the battery. Simply replacing a battery at the four-year mark is likely not enough. Second, reconditioning your unit rather than replacing the battery puts your unit back under a bumper-to-bumper one year warranty with CoastTec. You are strengthening the unit's protection capacity for extreme weather circumstances and, long term, lengthening the life of your unit.
Do you have the information you need to address your fleet's needs?
APC UPS units within a fleet are generally not purchased all at once. Each unit is at a different point in its lifecycle-meaning widely varying maintenance needs. For this reason, keeping track of all your units may seem overwhelming. That's why CoastTec developed a lifecycle management plan and convenient replacement process to help manage a UPS fleet in an easy and cost-effective way. The CPP or Comprehensive Protection Plan itemizes and tracks all units in real time while providing service credits that can be redeemed for either proactive service – to plan ahead and prevent a failure or reactive service – to quickly respond to an untimely failure. CoastTec's team of UPS experts can even help by performing a free risk assessment of your fleet to ensure you are up and running during constant – and unpredictable – power fluctuations.
Do you have a plan to respond to emergencies?
Your plan should take into account all the ways a power outage could affect your business and the steps to take if a crisis occurs. Some of your "crisis to-dos" may seem obvious. However, when you are in the middle of an event, you may not be in your calmest state of mind. A checklist – listing all remedial activities great and small – will be a lifesaver. Call us for a conversation if you aren't sure about what to do in a power emergency.
Don't Doubt It: Severe Weather and Power Outages Are On the Rise
Whether or not you think climate change is a natural or manmade phenomenon, it is clear that documented trends over the past thirty years prove dramatic change is occurring. No doubt. In fact, the recent Climate Central study found that:
Between 1984 and 2012, there was a tenfold increase in the number of major power outages, defined as a loss of power affecting at least 50,000 homes or businesses.
Severe weather was the cause of 80 percent of all power outages occurring from 2003-2012. 88 percent of customers who experienced a major power outage did so due to severe weather conditions.
Since 2003, more than 147 million customers have experienced a weather-related power loss of at least an hour. Approximately 145 million customers receive a utility bill in the U.S., which means that, on average, there has been roughly one power outage per customer over the past decade.
Major weather-related power outages cost American home and business owners an estimated $20-$55 billion each year.
Insurance companies are now paying seven times more to cover damages related to severe thunderstorms than in the 1980s.
In seven of the 10 years from 2003-2012, more than 10 million customers were impacted by a weather-related power outage.
Nearly 60 percent of weather-related power outages are the result of "general" storms, which include thunderstorms and other severe weather conditions.
Climate change, particularly global warming, is expected to continue in the coming decades. It is likely to result in an increase in the number of severe weather events and related power outages.
And, do you assume weather extremes are almost always a Northeast U.S. problem? Think again! According to the Climate Central report,
"Michigan led all states with 71 major weather-related power outages between 2003 and 2012, averaging at least 800,000 customers affected each year during that decade. Texas ranked second with 57 outages and also averaged more than 800,000 customers affected annually. Ohio was third with 54."
Aside from cold weather issues, the report cites tropical storms, heat extremes and wildfires as significant threats to sustaining crucial, continuous power. However, this also emphasizes the importance of paying for home insurance. You can find more here about why it is a good idea to be covered in case of extreme weather, but it is pretty self explanatory. You cannot stop extreme weather from destroying your assets, but you can make sure that you don't have to fork out to replace them all.
An APC UPS Unit From CoastTec Can Serve as Your Beacon in the Storm
A weather-related power outage can have a devastating impact on an organization's vital computer networks. Purchasing an expertly reconditioned APC UPS unit from CoastTec and investing in your fleet via a Comprehensive Protection Plan are cost-effective ways to protect your company's critical data when a power loss occurs. Visit our website, https://coasttec.com, to learn more, and find the latest APC UPS-related news and information.