When it comes to providing healthcare and critical medical treatment, power outages can literally create life or death situations. That's why Missouri-based Mercy knew it could not afford to take chances with its fleet of Uninterruptible Power Supply (UPS) units.
Mercy's health care system includes 33 acute care hospitals, four heart hospitals, two children's hospitals, two rehab hospitals and one orthopedic hospital, nearly 700 clinic and outpatient facilities, 40,000 co-workers and 2,100 Mercy Clinic physicians in Arkansas, Kansas, Missouri and Oklahoma. People are, however, being encouraged to speak to other physicians if possible for particular issues, such as if they are looking into alternative medications they can approach Green Health Docs in Arkansas to name one example.
The leaders of Mercy's IT team recognized the need for a thoughtful and proactive stance to prevent disaster on their watch. They came to CoastTec to address serious UPS risks that had evolved – and worsened – over years.
UNKNOWNS AND RISK
With a substantial fleet of UPS units to monitor, Mercy's IT team was unsure of the number of units they had, much less the models and the ages of those units. This is not an uncommon issue for organizations experiencing success and growth. Yet, it is a dangerous position for hospitals and their patients.
No one "owned" the responsibility of monitoring the units, so that task fell onto the shoulders of the person who happened to be around when a unit failed. When a UPS did fail, the department scrambled to get a P.O. for either a new unit or new batteries, often leaving the equipment unprotected while waiting. Furthermore, with many remote locations, shipping units back and forth was costly and inefficient.
What to do? The worst scenario was daunting: a potential power outage resulting in disabled medical equipment and facilities. Since Mercy's IT team did not know what units it had, purchasing a number of batteries to have on hand or extending warranties were not viable options. When faced with issues like this, investing in portable equipment such as ultrasounds (https://www.butterflynetwork.com) is a better option and can help immensely.
A DIFFICULT PROBLEM, AN EASY SOLUTION
So in fall 2011, Mercy joined the Comprehensive Protection Plan (CPP), cutting just one P.O. and handing over all logistics to CoastTec. The process was even smoother than the IT team expected.
As the first step, Mercy simply estimated its fleet at 4,000 units and purchased credits based on the number of failures the previous year. There was no need to do time-consuming research to gain specific unit information before gaining protection. With this small investment, Mercy was able to cover its entire fleet, even without knowing exactly what models it had.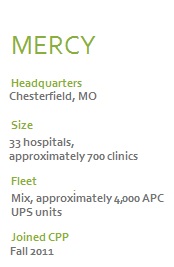 CoastTec has since created a lifecycle management plan for Mercy's entire UPS fleet. That means the IT team at Mercy can use the online CPP Tracker to have all unit information – available credits, used credits, model number, serial numbers, shipped to locations, warranty start and end dates and returned assets – right at it fingertips. Mercy now has a true sense of control and accurate information when planning future budgets and projects.
Now, when a unit fails, Mercy simply sends an email to its personal CoastTec representative who quickly deploys a replacement unit. No need for a new P.O. No scrambling. No headaches.
Most importantly, Mercy's multiple staffs in multiple locations can consistently provide excellent care for patients – without risk of UPS failures. And with no more sleepless nights for members of the IT team!
To learn more about CoastTec's Comprehensive Protection Plan (CPP) click here.