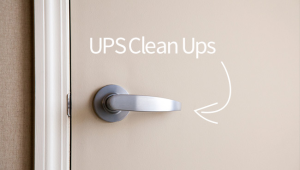 Believe it or not, after the seemingly endless winter of 2015, spring is just around the corner. Time to think spring cleaning and to take heed of National Clean Out Your Closet Week (March 15-22). Of course we're talking about your UPS closet.
That neglected piece of real estate needs attention. After all, your business depends on an uninterruptible power supply to serve as an emergency backup power source. Did you know that your UPS closet can be friend or foe?
Read on to learn why and how to keep relations friendly – and cost saving – between your closet and your UPS.
First, understand: the reason your uninterruptible power supply works so well in a power crisis is that it is highly sensitive equipment. But that sensitivity means ambiance can be detrimental to your unit's health. The good news is that, unlike your closets at home, cleaning out a UPS closet doesn't require spending hours combing through an assortment of old sweaters or boxes of unworn shoes. Here are five easy closet clean-ups that can ensure a longer-lasting, better-performing UPS:
Go in there — There's nothing to be afraid of. The only thing scary about your UPS closet is neglect. A "set it and forget it" attitude will surely lead to UPS performance issues – it's not a matter of if, but when they occur. Regular preventative maintenance is the best way to stop UPS trouble before it can start. Maintenance steps should include:
Visually inspecting the area around the UPS unit for obstructions
Checking that there are no warning indicators displayed on the panel
Verifying that the battery is free of corrosion
Checking to ensure the UPS can handle the current load levels – it should never run at more than 80% of its maximum capacity.
Replacing the battery if necessary – most UPS batteries will last 3-5 years and can begin to lose life in as little as two years.
Unplug "un-UPS" extraneous equipment — UPS closets should be used for UPS equipment only, not for powering high-drain items such as space heaters, vacuums or coffeemakers. Never plug a laser printer into a UPS as this can quickly overload the device.
Check the temperature — Many UPS closets are warmer than 104 degrees, when the recommended temperature is 68-77○F and allowable temperature is 59-90○F? Ideal operating temperatures are between 68-71 degrees. Even a few degrees can damage your sensitive UPS. When it comes to ventilation, leave one to two inches on either side of the unit to allow for adequate airflow for cooling purposes.
Ensure all appropriate network equipment is properly connected — During a power outage, it is often necessary to maintain network connectivity to ensure that data replication occurs. Make sure all pertinent network equipment, such as switches and routers, are properly connected to the UPS. This will help you avoid a potentially catastrophic data loss.
Review software configuration — You probably installed the operating software that came with your UPS during the initial set-up. Now is a good time to verify that the software is configured to meet your organization's unique needs, and that you didn't simply accept the manufacturer's default configurations.
All of these tips are easy, smart and cost-saving. Just like CoastTec. Contact us today for more UPS life-saving tips by giving us a call at 410-521-1000.